Four-Wheel Alignment Service
VW Four-Wheel Alignment in Huntsville, AL
Today's cars and trucks rely on decades of engineering trial and error to be reliable and long-lasting. Many complex and mission-critical systems in your vehicle are likely to last for years, sometimes with little maintenance. However, over time with normal use, any vehicle can fall out of proper alignment. When this happens, it can indicate the likelihood of an imminent failure, and it will expose your vehicle to excessive wear and tear.
Four-Wheel Alignment in Huntsville
By maintaining good 4-wheel alignment, we can reduce the amount of wear and tear your vehicle sustains during everyday use. But letting your car fall out of alignment can do more than just make repairs more frequent. By adjusting the camber, caster, and toe, we can minimize nearly all potential problems.
Caster: This aspect of all-wheel alignment can be described as the forward or backward angle of the steering axis. Too much forward caster can cause instability. Sometimes a high degree of rear caster can increase stability at high speeds. But the best position for most vehicles is the absolute center.
Camber: Camber describes the degree to which your wheels lean in or out. This aspect of all-wheel alignment contributes most to uneven tire wear. By keeping the camber in perfect alignment, we can help to keep your tires in good condition longer.
Toe: The aspect of alignment known as toe can best be understood by imagining a view of the wheels from above. From that angle, toe is a measure of how close your wheels are to parallel. If you imagine your wheels running on two perfectly straight lines, the misalignment in toe means those lines either diverge or intersect. Ideally, you want your toe to create perfectly parallel lines.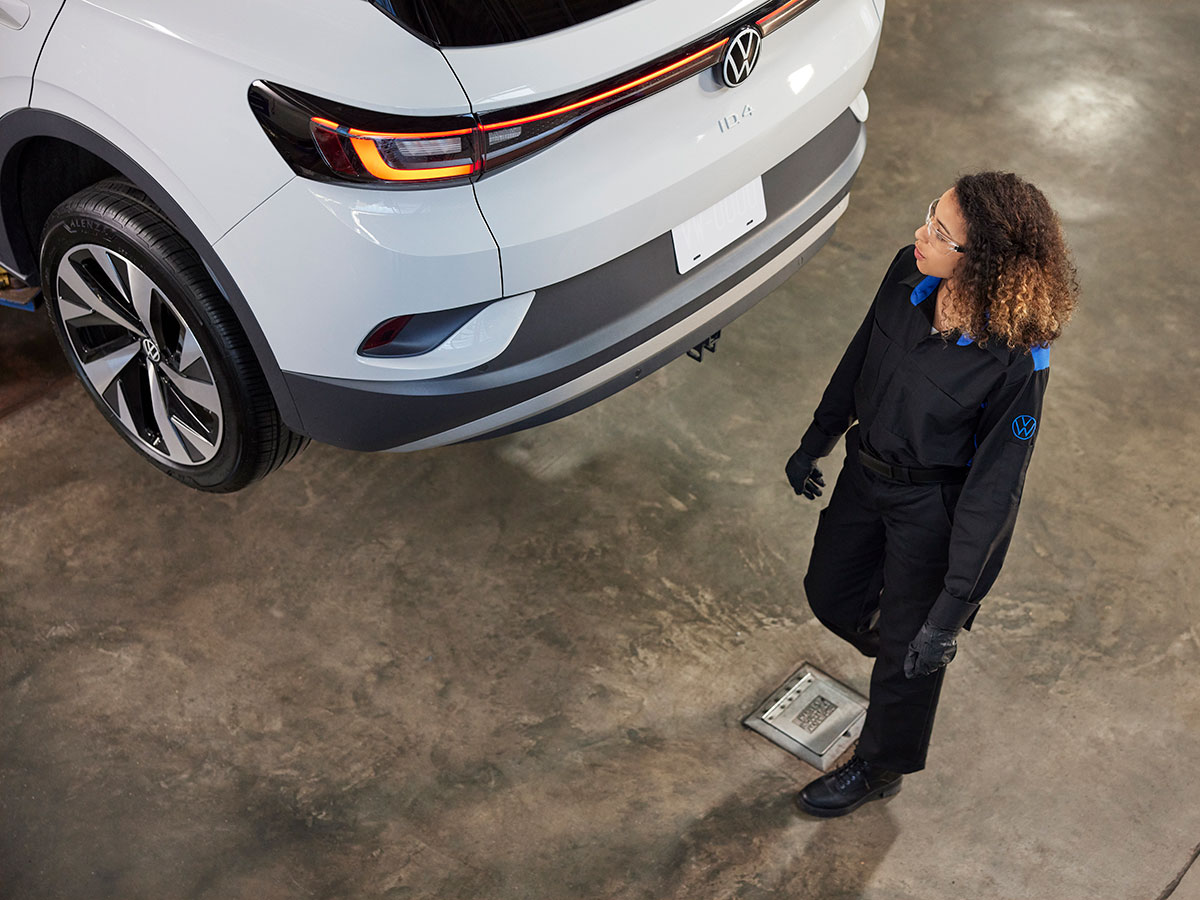 Signs You Need Volkswagen Four-Wheel Alignment
There are a few things to watch for which indicate poor alignment. They include:
Drifting & Pulling: If you get out on the highway with no other cars around. Drive in a straight line and then carefully let go of the wheel. If the vehicle begins to drift to one side, then you likely have a mild alignment issue. Most vehicles do. If the pulling is prominent, you should get service asap.
Vibrating Steering Wheel: Usually a symptom of bad toe, a vibrating steering column can be very hazardous, especially in emergencies.
Uneven Tire Wear: A sign of bad camber, this should be remedied to get more life out of your tires.
Get Top Quality 4-Wheel Alignment With Hiley Volkswagen of Huntsville
When you work with the professional automotive technicians at the Hiley Volkswagen of Huntsville service center in Madison, Harvest, Athens, and Huntsville, AL, you can rest assured that your alignment will be done to the highest professional standards. Call, click, or stop by today to schedule an appointment.
Schedule Service
Complimentary Amenities
Complimentary Wi-Fi
Business Workstations
Certified Technicians
Complimentary Uber / Lyft Services
Comfortable Waiting Area
State-of-the-Art Facility
Saturday Service Hours
Home / Office Pick-up & Delivery
Flat Screen TVs
Complimentary Beverage & Coffee